Eighth Meeting of the Global Forum on Migration and Development
14-16 October 2015, Istanbul, Turkey
The Turkish Chairmanship was organized under the overarching theme of "Strengthening Partnerships: Human Mobility for Sustainable Development". This theme recognized that international migration cannot be addressed effectively by any one country alone, or by states without the cooperation of other stakeholders—including international organizations, civil society, the private sector and migrants themselves. It also emphasized that mobility within the right policy framework is a positive factor for development.
Turkey assumed the GFMD Chairmanship in July 2014 at a time when the world's attention has been focused on migration more intensely than at any time in a generation, and there was a real sense of crisis. The GFMD 2014-2015 thematic agenda had three key objectives. The first objective was to enhance the focus of migration management on the rights, dignity and well-being of the migrant, incorporating a variety of perspectives, including civil society and migrants themselves. Secondly, the Chair wanted to promote the universal recognition of the development impact of migration in public policies. The third objective under the Turkish Chairmanship was to strive to engage relevant stakeholders in strengthening the linkages between migration and development. 
The GFMD 2014-2015 pushed forward key issues that governments and all concerned stakeholders can continue to help translate into action, such as protecting and assisting migrants in countries in crisis to migrants in transit, lowering the human and the financial costs of migration, and mobilizing the diaspora and migrant entrepreneurs in helping realize the 2030 agenda for sustainable development.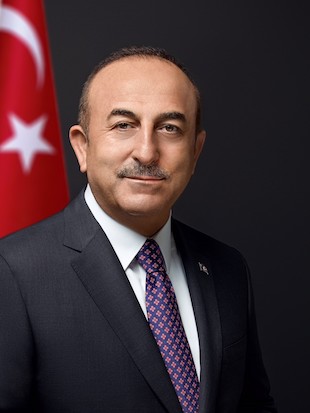 Mr. Mevlüt Çavuşoğlu
Minister of Foreign Affairs, Turkey
Chair, GFMD 2014-2015
Recognizing the crucial role of the private sector in international migration, the Turkish GFMD Chair built upon earlier GFMD initiatives to strengthen the interaction mechanism with business leaders, who play a key role not only in enhancing migrants protection and minimizing the costs of migration, but also in harnessing the development potentials of migration for businesses and migrants (and their families and societies) alike. In Istanbul, Member States endorsed the pilot of a GFMD business interaction mechanism in 2016, to be coordinated by the International Organization for Employers (IOE) and the World Economic Forum (WEF)-Global Agenda Council on Migration. 
The Summit in Istanbul also echoed two recurring themes. One was the need to take action. Even though the GFMD is not a body that makes binding decisions, it cannot be just about talk. The second recurring theme was the imperative need for partnerships among countries, between civil societies and governments, and partnerships with the private sector to translate discussions on migration and development into concrete policies and programs that actually benefit migrants, their families, societies and countries. 
Links:
Chair's Presentations / Speeches:
Opening Remarks by Ambassador Mehmet Samsar, Director General for Consular Affairs, Ministry of Foreign Affairs


GFMD-GMG Side Event - From Cairo to Addis: Migration, labour mobility and the renewed global partnership for sustainable development, 16 Apr 2015, New York

Remarks by Ms. Esen Altuğ, Deputy Director General for Migration, Asylum and Visa, Ministry of Foreign Affairs


GMG Briefing on Work, Priorities and Future Directions (24 Nov 2014, Geneva)

Statement by Ms. Esen Altuğ, Deputy Director General for Migration, Asylum and Visa, Ministry of Foreign Affairs


105th Session of IOM Council, 25 Nov 2014, Geneva

Speech of Mr. Levent Eler, Deputy Permanent Representative of Turkey to the UN in New York


High-level Discussion on Realizing the Transformative Potential of Migration and Empowering Migrants, 20 Oct 2014, New York

Opening Remarks by H.E. Ambassador Halit Çevik, Permanent Representative of Turkey to the UN in New York


GFMD-GMG Side Event on Fair Migration and the Post-2015 Sustainable Development Agenda, 9 July 2014, New York

Remarks by H.E. Mevlüt Çavuşoğlu, Minister of Foreign Affairs


7th GFMD Forum Meeting, 16 May 2014, Stockholm
See also: